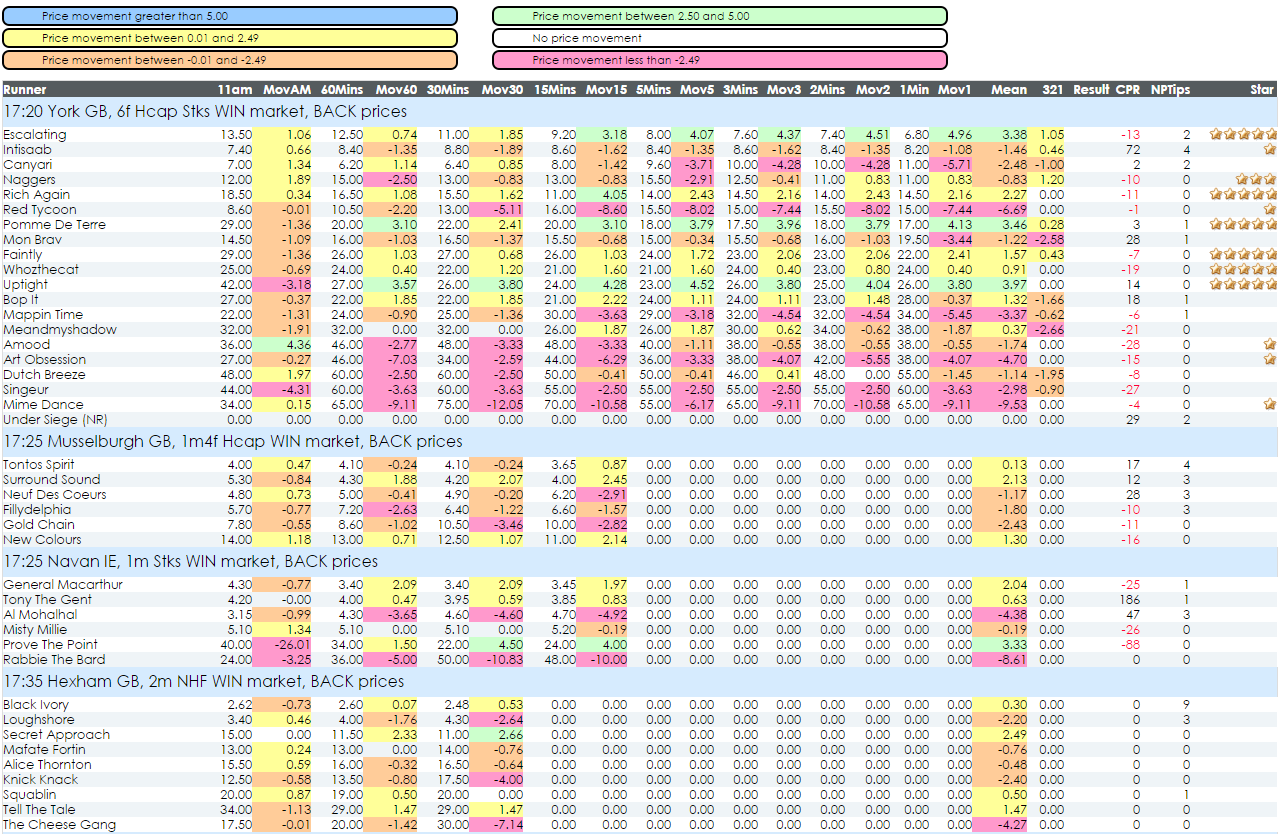 The JustStartHere Upcoming Races Screen - Win Market, Back Prices (click on image to enlarge)



Why Is Horse Racing Price Movement Important?
Under certain conditions, collective opinion is likely to provide more accurate predictions that individual opinion. Ask a large enough group of independent people to predict the outcome of an event and you'll get a range of responses. Take an average of their estimates and individual errors of judgement at both ends of the spectrum of opinion will cancel themselves out.
Betting exchange markets are a rich source of valuable information for those in the business of prediction as they are a collection of thousands of opinions represented by money. The most crucial time to observe horse racing price movements is during the last few minutes before post time - this is when the majority of money is traded and the best time to guage what the collective opinion of the race outcome is.
"I have been caught out so many times in the past as a result of individual opinion. This is why I have become a great believer in collective intelligence and the power of the mass market.

Your service is the best I have ever come across - I use it every day as part of my market strategy"

- Yan, Lincoln

"I've recently subscribed to JustStartHere and it's exactly what I've been looking for. The tools I now have at my disposal make a tricky game much, much easier."

- David, Derby

"I would just like to thank you for the wonderful service JustStartHere provides. I came across your website a few months ago after struggling for years trying to monitor the price movements from the graphs on the Betfair site. I would not dream of betting now without consulting your price charts first."

- Richard, Leicester
What Factors Affect Price Movement On The Betting Exchanges?

Form

Horse condition & behaviour in paddock before race

Change in weather conditions

Going change

Jockey changes

People in the know (owners/trainers etc.)



Punters acting on this information causes the prices to fluctuate on the betting exchanges. Significant price fluctuations often indicate that something has happened to improve/reduce the chance of a horse winning.
The JustStartHere price movement service allows users to easily follow where the money's going on the betting exchanges and clearly identify the steamers and drifters in all UK and Irish horse racing betting markets.
Key Features Of The JustStartHere Service

All UK and Irish racing covered - follow every race live

Full mobile & tablet compatibility - access the information at home on your desktop computer or on your mobile or tablet whilst you're out and about, in the bookies or at a race meeting

Betting exchange back and lay prices & price comparisons for win and place markets updated automatically every minute

Full results service

Access to the Cherry Picks horse racing ratings

Tips from all the major daily UK and Irish newspapers and racing publications collated and displayed on the live price movement pages

Colour-coding and star ratings to help identify the steamers and drifters in the market

Historical price movement data available to download (great for testing and analysing betting approaches)

Access to detailed daily racecards containing information on every UK and Irish race (going, prize money etc.) and every runner (trainer, jockey, recent form, number of days since last race, weight, course & distance wins etc.)



Subscription
Subscription to the service costs just £6.00 per month via PayPal. There's no long-term contract - subscribers can cancel or reactivate their monthly membership payments direct from their PayPal accounts at any time.
To sign up, please click on the button below to register an email address, username and password. Once your account has been created, simply log in and click on the PayPal button to activate it.