Example 4 -

Horse Racing Steamers That Tick All The Boxes At 1 Minute before The Off
If a horse ticks all three boxes for being the biggest overall (Mov1), average (Mean) and late (321) steamer in a race at one minute before post time on JustStarthere, it's definitely worth taking into account.
In the screenshot below, three out of the four races have produced a qualifying selection - Our Ivor in the 13:30 at Southwell, Basford Ben in the 13:50 at Carlisle and Marshall Art in the 14:00 at Southwell - all three recorded the highest positive Mov1, Mean & 321 values in their respective races. There was no qualifying selection in the 13:40 at Ludlow because the three highest values were not assigned to one horse.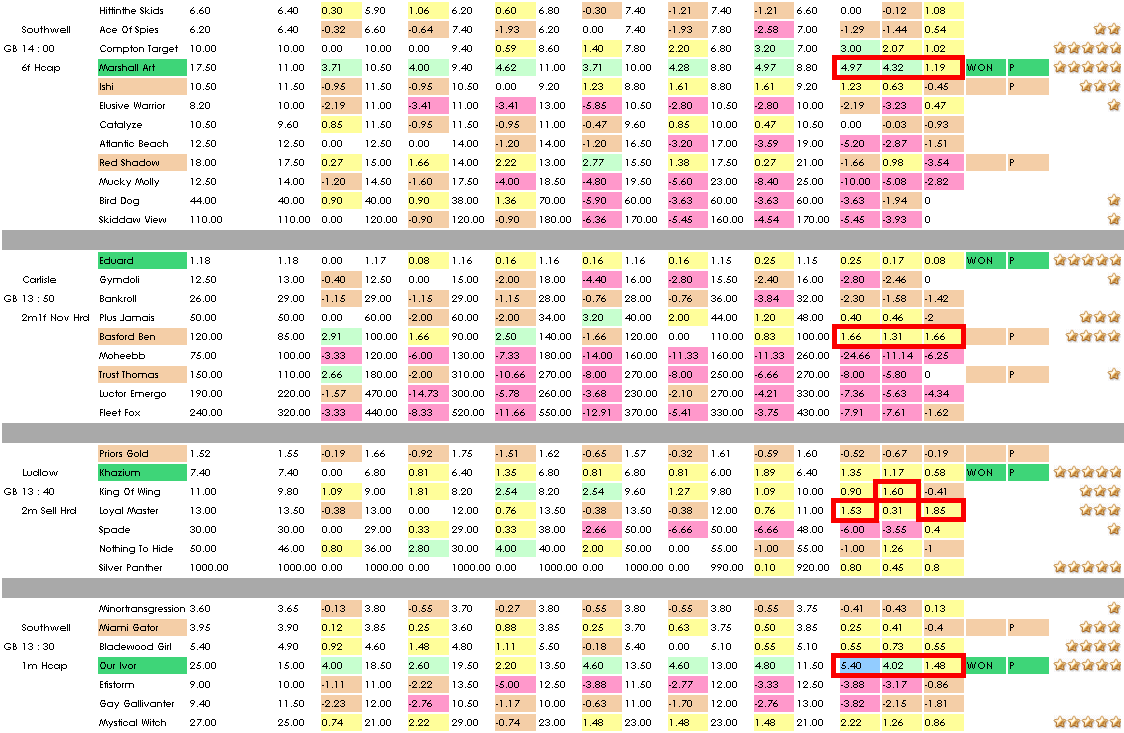 Click on the image above to enlarge

Out of the three qualifying selections above, two went on to win with Betfair starting prices of 10.50 and 8.27 and the other went on to place with a Betfair place starting price of 4.00.
Generally there aren't many qualifying selections each day. There were seven qualifiers in total on this day (7 February 2013), four of which went on to win and the same number of qualifiers and winners on the previous day. On the day before that however, there there were no qualifying selections at all. Backing all of the selections to win over the three day period would have returned a profit of 36.03 points after commission (based on Betfair starting prices).
Always try to be selective when using the data - there isn't necessarily an angle to be found in every single race.